Striping Fire Lanes in the Dallas/Fort Worth Area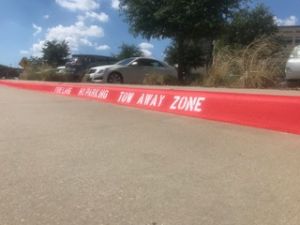 Fire lanes are necessary for every commercial and multi-family residential property. In case of a fire, they ensure that fire department will have unobstructed driving access to all parts of the building.
New buildings or additions must have new fire lanes striped and existing buildings are required to maintain their fire lanes with fresh paint so that they are visible. At C & D Commercial Services, we have been striping fire lanes since 1981. Find out more about our parking lot striping services here.
Fire Lane Guidelines are Found in the Municipal Code
Guidelines that determine fire lane widths, distances and layouts are usually governed by the municipality where the property is located. These municipal codes are available to the public and must be adhered to. For more information about fire lane codes and guidelines, contact the Law Office of Justin Scroggs.
Fire Marshal Inspections Create Deadlines
Existing fire lanes are monitored by the fire marshal and inspected on a regular basis. If the fire marshal finds a violation, you are given a short amount of time to have the violation fixed or face a fine. Usually, the violation is because old or chipped paint that makes the fire lane hard to see. The property is owner is given a short window to have the fire lane re-striped.
C & D Commercial Services, Inc. has been striping fire lanes since 1981. We are well versed in new layout fire lane striping as well as additions and re-stripes. We understand that our customers are often up against a city-mandated deadline to fix their fire lane. In these emergency striping situations, we can mobilize quickly to make sure we stay within our customers deadline. We've even had situations where we will call the fire marshal for our customers to let them know what progress is being made to keep our customers from receiving a fine.
How Much Does it Cost to Stripe Fire Lanes?
The cost C & D charges to stripe fire lanes depends on a number of factors. The first factor is whether we are striping a new fire lane on blank pavement or re-striping an existing lane. New striping requires layout and making sure the layout adheres to municipal codes, which increase the cost. Choice of paint is another factor. Acrylic parking lot paint costs more than chlorinated rubber (it also looks better and lasts longer). Whether the fire lane is painted on a curb or on flat ground also make a difference. Paining on a curb costs more. Last, when striping over old paint, the amount of prep required to make the new paint bond is a factor. Sometimes the old paint is peeling so bad that extensive prep is required before we repaint.
If you have any questions about fire lane striping or need a complimentary quote, be sure to contact us.