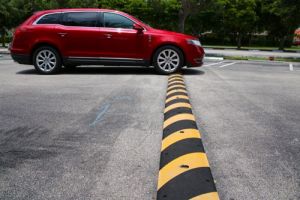 As part of our parking lot maintenance services, we provide speed bump installation in the Dallas and Fort Worth area. Speed bumps are important for parking lot safety. A well-placed speed bump can prevent vehicle accidents and protect pedestrians crossing drive areas.
Use Speed Bumps to Control Vehicle Speed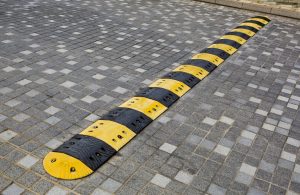 Speed bumps are often necessary to keep vehicles at a safe traffic speed in your parking lots. In particular speed bumps need to be used on long straight stretches, around pedestrian crossings, and areas where speeding or accidents tend to occur. Speed bumps not only make a driver slow down, but they also direct a driver's attention back to the parking lot. A few well, placed speed bumps can greatly reduce the amount of accidents in a parking lot or parking garage and increase driver awareness.
Overall, parking lots are a lot more dangerous than people realize and a property manager should take reasonable steps to make their parking lots and garages safe and orderly. Parking lot striping and speed bumps are an effective and low cost method for reducing reducing these accidents in a parking lot and parking garage.
Parking Lot Speed Bumps
We can place speed bumps and speed humps on both concrete and asphalt parking lot surfaces. Our options included a pre-manufactured speed bump or creating a concrete one to your specifications.
Parking Garage Speed Bumps
We can place speed bumps and speed humps in parking garages. This can also be done by installing a pre-manufactured speed bump or creating a concrete one. In post-tension parking garages, we must first scan the pavement where the speed bump or speed hump will be installed to make sure we to not hit any post-tension cables.
Concrete Speed Bumps
Concrete speed bumps can be created to meet your needs and specifications. We create a concrete speed bump by cutting down into the existing pavement, we then drill holes for rebar into the existing pavement and integrate the new rebar for the speed bump with the existing pavement. This insures the speed bump will stay in place, will move with the existing slab, if in expanding soil and will last a long time.
Plastic/Rubber/Synthetic Speed Bumps
Plastic, rubber and synthetic speed bumps come pre-manufactured in different, lengths, widths, heights and designs to fit your needs. These speed bumps are generally less expensive than concrete and can be installed faster and with less labor costs. They may need to be replaced from time to time as the materials do not last as long a concrete, however, they also are easier to remove if you decide you don't need them or want them in a different location.
Other Vehicle Stopping Devices
In conjunction with speed bumps, our customers will often install wheel stops and bollards. Wheel stops, also called parking blocks, stop a car from pulling too far forward in a parking lot. They can be used to protect parking lot signs, building or parking garage walls, curbs, sidewalks, landscape and more. Bollards are often used to protect building entrances, electronic gates, elevator landings, and loading docks.
Why Choose C & D for your Speed Bump Installation Needs
At C & D, we have provided speed bump installation services on commercial properties since 1981. We have a knowledgable staff who can help make sure you get exactly what you need at the best price possible. We can also help you with speed bump placement. Thought our decades in business, we can seen what works and what doesn't. We are a dependable and efficient contractor who will get your job done quickly and will always be just a phone call away. Call or email us for a fast and free quote.