Not All Parking Lot Cleaning Companies are the Same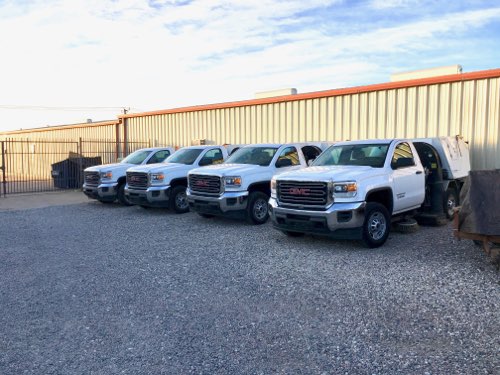 We recently lost a re-bid for parking lot cleaning on a property that we've been servicing for years. The property manager was happy with our service but simply went with a lower bid. We lost by a mere $12/month to one of our competitors, who recently bought two of our worn-out sweeper trucks when we updated our fleet last year.
Many sweeping companies, including this competitor, use old sweeper trucks with a one-person crew to clean their customer's parking lots. This allows them to provide the lowest price possible but does not give the customer much value in return. An old truck does not clean as well as a new one and one-person cannot adequately clean a large commercial property by themselves.
Our focus is different at C & D. We want to provide the best service possible. This is why we maintain an all-new fleet of sweeper trucks. Each truck has a two-person crew and each crew member has a high-volume backpack blower. Because most sweeping complaints come from leaves, dirt and debris piling up in corners, entrances and other areas not accessible by the truck, we stress the importance to our crew of getting out and blowing this debris to an area reachable by the truck.
Companies who have one-man crews and low-ball pricing often don't have the time allotted to each property for the crew member to get out of the truck and blow the property down, then get back in the truck and sweep. We've been in the business long enough (since 1981) to know this simply doesn't happen. Sweeping companies price parking lot cleaning based on the amount of time they plan on spending on that property. A low price means they won't be out there long.
That extra $12 per month we were charging paid for a brand new and more effective truck, an extra person, and extra blower every time the property is serviced. It paid for a much cleaner property.
Don't Just Take the Lowest Parking lot Cleaning Price
You usually get what you pay for and parking lot cleaning prices are no different. All companies have to cover their overhead, pay for and maintain their equipment and pay their employees. Taking the lowest sweeping bid can sometimes be a mistake. Be sure you know what kind of service you are getting before accepting a bid. Low-ball bids often come from companies who:
don't intend on spending much time on your property;
underestimated the scope of work;
don't intend on giving you good service;
have cut corners on crew and/or equipment; or
they're desperate.
This is not exactly a recipe for a clean property and happy tenants. Regardless of how the company arrived at the low-ball price, the result is that they will not spend much time on your property and will not give your property a high priority when they have more profitable properties across town.
Find out what you are getting for the bid price to sweep your property. Here are some questions to ask your sweeping company:
How much time do you intend on taking to sweep this property?
How long have you been in the sweeping business?
How many properties do you sweep?
How many sweeper trucks do you have?
How old are the sweeper trucks?
Can you send a recent picture of the fleet?
How many crew members go out in each truck?
How many back pack blowers are in each truck?
Do you have GPS tracking?
Are you proficient in sweeping parking garages? (if your property has a garage)
Check the Scope of Work
Make sure you read the scope of work closely in each bid you receive from a sweeping contractor. Are they cleaning the entire property? Will it be for the frequency you requested? Will they clean the property every time? We have found that some sweeping companies will monitor the property and only clean it if the driver deems it necessary. Is this the kind of service you want? Make sure you understand what you're signing up for.
A Clean Parking Lot is Very Important
Many property managers and owners don't put a lot of value in sweeping and pressure washing. However, we believe it can make a huge difference in the value of your property. The parking lot is the first thing visitors or future tenants see when they reach your property. Studies have proven the importance of first impressions and the huge influence it has on a person's opinion. A dirty parking lot or unkempt entryway is something that could stick in a future tenant's mind and ultimately ruin a deal.
There is often a direct correlation between the cleanliness of the property and the rent charged. The higher the rent, the cleaner the premises. Which comes first? The rent or the budget to keep the property clean? Well, you're going to have a hard time attracting a high-end tenant to a property with a low-end maintenance budget so the clean property comes first. A clean property makes it easier to attract tenants and allows you to charge more for rent.
C & D Commercial Services, Inc., has been in the parking lot cleaning business since 1981. We specialize in sweeping commercial parking lots and parking garages, pressure washing, parking lot striping, and concrete and service over 400 properties, including some of the largest and most prestigious properties in Dallas and Fort Worth.
Find out more about the services we offer.