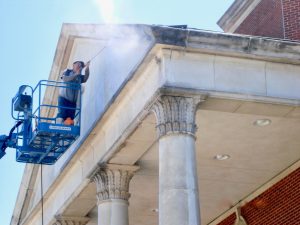 Building Pressure Washing Services in Dallas and Fort Worth
Building pressure washing is the process of washing the walls of a building. Over time, building walls can get dirty and need to be cleaned. This can be from mildew on shady, north-facing walls, stains left by water runoff, effervescence – which is calcium-like deposits that leach out of brick, or just from dirt and soot from car exhaust and city pollution. We clean surfaces such as concrete, cast stone, brick, stone, tilt wall, cmu block, glass, stucco and other veneer finishes.
C & D Commercial Services specializes in building pressure washing services. We can give your building a fresh look and get rid of mildew, stains and dirt that has collected on your building over time. With our construction background, we know that different building materials require different cleaning methods and chemicals. For instance, a concrete wall can be cleaned with a much higher water pressure than a stucco wall. There are also differences in how you treat different types of stains. Mildew can be cleaned with bleach but effervescence requires a specialized acidic cleaner. Exhaust soot on parking garage walls is often statically charged and must be cleaned with a brush and soap. We will adjust our cleaning pressure and methods to best suit your needs and most effectively clean your building. In situations where tall walls require cleaning, we are experienced in using scaffolding or various types of lifts to access these areas.
Contact us today for a fast and free quote. Find out more about our pressure washing services here. C & D has been pressure washing the DFW area since 1981. We have a new construction division that focuses on masonry and stucco and we also have a sister company that sells and rents scaffolding. If your primary goal is getting the job done right from a reliable and knowledgable contractor, we're here to help.