Asphalt Sealcoating Services in Dallas and Fort Worth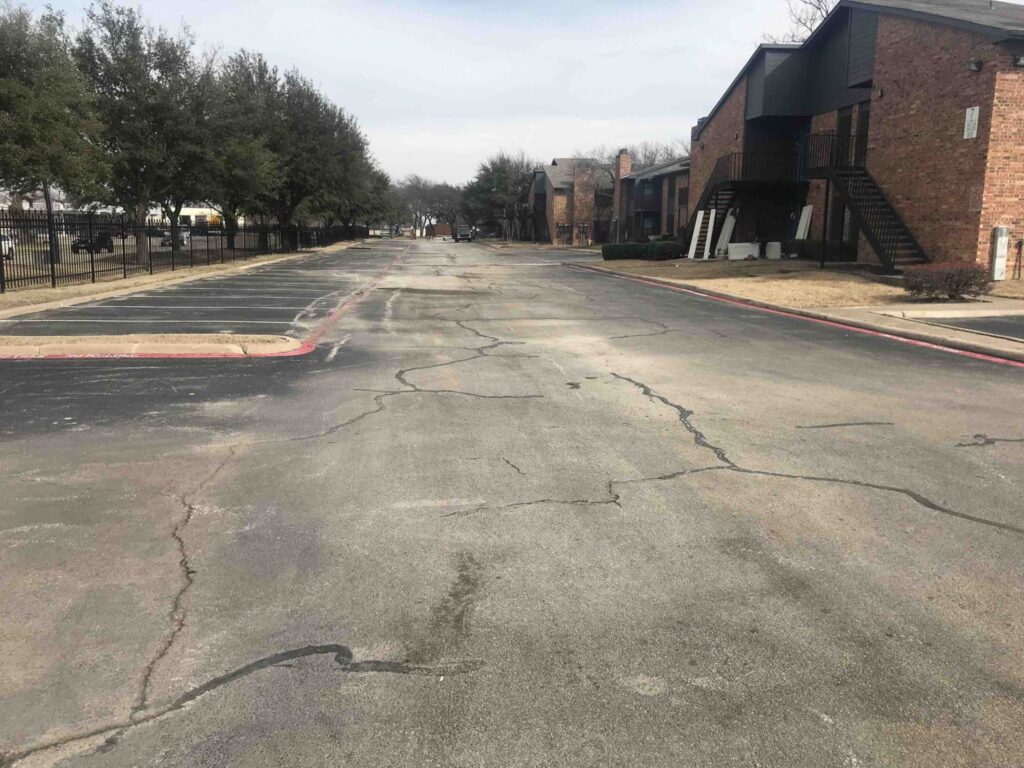 Hot mix asphalt is not as common of a surface choice as concrete in Texas, but many places of business and residential locations do install the product for their parking surfaces. With the decision to install asphalt as the parking surface comes the responsibility to maintain it which typically includes a vital process known as asphalt sealcoating. If ignored, property owners will without a doubt be looking at a having to install a completely new surface costing thousands of dollars sooner rather than later.
The importance of asphalt sealcoating becomes evident just by understanding what exactly asphalt is
Asphalt is made up of rock and/or stone and gravel that is held together by a binder known as asphalt cement. The binder is what is so essential to keeping the asphalt from crumbling, but rain, U.V. rays and chemicals all will degrade the binder over time. As time passes, the binder that holds the pavement together begins to oxidize and weather. All of this environmental damage is why asphalt goes from a newly laid fresh black appearance to an aged, oxidized gray soon afterwards. This is where asphalt sealcoating enters the fray as a coating will refresh the protection of the asphalt while also increasing the visual aesthetics.
As a property owner or manager of a location with an asphalt surface it's vital to implement a maintenance program of sealcoating to extend the life of your parking lot and driveway. The sealcoating provides a layer of protection that helps block out harmful intrusions like water, U.V. rays and oil.
An asphalt surface that receives a maintenance schedule of sealcoating will see it's life more than double down compared to one that is not maintained. Instead of paying thousands for new pavement, it's much more cost-effective to spend pennies on the dollar per square foot to maintain which can be achieved with sealcoating.
Knowing when to sealcoat depends on several factors, including the quality of pavement sealer that was previously installed, the number of coats applied, the amount of daily traffic and the geographic area of the location.
The quality of the sealer directly impacts the longevity of the sealcoat application. Contractors sometimes will use a watered down product to cut cost and the durability is directly impacted by this decision. Another factor is that a high traffic area will see quicker wear over time, while the winter months, which are usually not harsh in Texas, do play a part in asphalt wear with large amounts of moisture and freeze/thaw cycles.
Once the decision to treat your parking area and driveways is made, which is recommended to take place every three-years, it's important to be somewhat knowledgeable on the process of installation to be sure you receive quality work.
Below are several standards that sealcoat manufacturer SealMaster specifies must be followed:
A minimum of two coats should be applied.
Temperatures must be a minimum of 50 degrees and rising for a period of not less than 24 hours. Do not apply when temperatures are forecasted to get below the 50-degree mark.
Do not apply if rain is imminent within the same 24 hour period
Once finished with the application of the sealcoat, allow 24 hours for the product to cure before allowing vehicle traffic back on the surface.
In addition to asphalt sealcoating, C & D Commercial Services also specializes in asphalt repair and many other parking lot services. Contact us for a fast and free quote.